Info for visitors
Quick Facts
Nickname(s):
"Resort City", "Oil Town"
Motto:
Progress with the society
(Malay: Maju bersama masyarakat)
Country:
Malaysia | State: Sarawak
Area:
4,707.1 km2 (1,817.4 sq mi)
Elevation:
21.95 m (72.01 ft)
Population:
356, 900 (as of 2020)
International call prefix:
+6085 (landline only)
City on the move
Miri is well on its way to fulfilling its objective of becoming Sarawak's location of choice to live, work, visit, invest and, of course, study. Big things are happening in Miri and now is the time to make the most of everything this growing city has to offer. Enjoy balmy weather all year round, experience the city's vibrant and stimulating living environment, indulge in the local culture and incredible food, and of course, discover the area's natural wonders.
Sarawak's most cosmopolitan city
Miri is regarded as Sarawak's most cosmopolitan city with a population of about 350,000 comprising almost the entire spectrum of the state's many ethnic groups, as well as a significant number of expatriate workers from around the globe.
It is known as the northern tourism gateway to Sarawak and attracts numerous foreign tourists as well as weekend shoppers from neighbouring Brunei. It is also the administrative headquarters of Miri Division, the largest of Sarawak's 11 administrative divisions.
Oftentimes, it is referred to as the 'Oil Town of Malaysia' as it is home to the country's more than 100-year-old petroleum industry. Another favourite nickname is Sarawak's 'Resort City' given its scenic seaside location and being the gateway city to the area's world-renowned tourist attractions.
Miri's history, progress and economy have always been tied to oil. Only a humble fishing village about a century ago, it has grown in leaps and bounds since oil was discovered in the area in 1910. The oil and gas industry remains the largest contributor to the economy of Miri and Sarawak but other industries such as forestry and agriculture burgeoned in the years following Sarawak's independence through the formation of Malaysia in 1963. In recent years, the construction, shipbuilding, retail, financial services, tourism, education and manufacturing sectors have also contributed greatly to the city's rapid economic growth.
As a city on the move, new infrastructure and development projects are planned or underway, They include the Marina Bay development incorporating Miri's new City Hall, financial institutions, hotels, luxury condominiums, commercial properties, sports amenities and government offices; as well as new roads, public amenities and commercial properties in both inner city and suburban areas.
Today, Miri boasts a splendid waterfront, marina, shopping malls, luxury condominiums, two 18-hole golf courses, 4- and 5-star hotels and a modern airport and port. It has also become an educational and training hub with the presence of Curtin Sarawak and other private and public institutions of higher learning, as well as a key tourism hub for eco-activities, diving and adventure holidays.
Weather in Miri
Due to its proximity to the equator, Miri enjoys a wonderful tropical climate. You can expect hot and humid conditions during your time here. Temperatures are generally fairly constant, averaging between 32 °C by day and 22 °C by night (72-93°F) all year round. Humidity levels are generally close to 80%. Basically, it's summer all year long!
There is usually a pleasant onshore breeze along the coast during the afternoon. But, due to the tropical climate, mosquitoes and sandflies are common. You can get repellant and sunscreen here but you may want to pack some good UV-protecting sunglasses for those lazy days at the beach.
Be prepared for thunderstorms that can be frequent and heavy, especially during the monsoon season. The Northeast Monsoon in Malaysia is characterized by steady northeast wind, usually occurring from about mid-November until March. During this period coastal areas of Sarawak, including Miri, will experience widespread heavy spells of rain, lasting 2 to 3 days. About 4 or 5, such spells are expected each monsoon season but fair weather is expected otherwise. Even when there are torrential downpours and spectacular thunderstorms, these quickly give way to muggy but dry sunshine. Miri's infrastructure copes well with the rains and they should not impact your stay overly much.
Check out the latest weather update at the METMalaysia website
The National Parks
Miri is a prosperous city that combines a flourishing multicultural lifestyle with a really relaxed vibe. There are many exciting opportunities for learning, outdoor activities and exploring. For decades, it's been a popular tourist destination and a gateway to no fewer than five National Parks, including the spectacular 187,000 hectare Miri-Sibuti Coral Reef National Park and Sarawak's only UNESCO World Heritage Site at Gunung Mulu.
Miri-Sibuti Coral Reefs National Park
Located in the maritime boundary between Bintulu town and Miri City, Miri-Sibuti is the largest offshore national park created in Sarawak and in this vast expanse almost 40 dive sites have already been identified. Most of these are absolutely pristine patch reefs, but there is also the opportunity to dive the coral encrusted oil rigs and even WWII wrecks.
Miri-Sibuti is the breeding ground for 800 species of hard and soft corals and over 40 species of nudibranchs have been sighted. Gorgonians, anemones, sponges, giant clams, and crinoids are abundant. Fish species commonly sighted include trigger fish, parrot fish, clown fish, fusiliers, angelfish, butterfly fish, sea perch, lizardfish, batfish, barracudas,wrasses, groupers, stingrays, and sharks.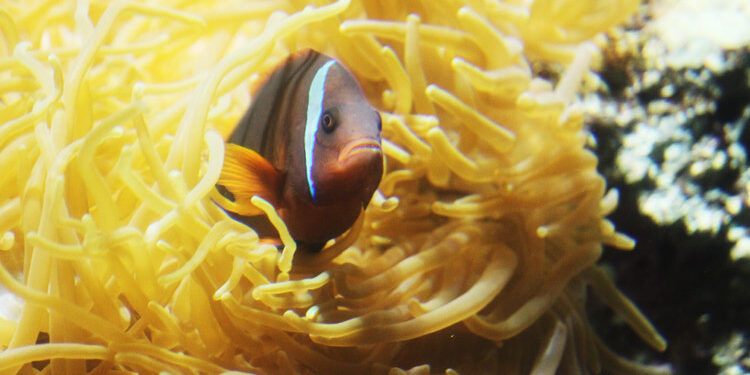 Gunung Mulu National Park
Gunung Mulu is Sarawak's largest national park (544 sq km), and also Malaysia's first Unesco World Heritage Site. It is most famous for its limestone cave systems, including the world's largest natural chamber (the Sarawak Chamber), the world's largest cave passage (Deer Cave) and the longest cave in Southeast Asia (Clearwater Cave). The park's main attractions are the four show caves (Wind, Clearwater, Deer and Langs Caves), all readily accessible by wooden walkways and paths. Other fascinating sights and activities include; a bat observatory; a 480m rainforest canopy skywalk (the world's longest tree-based walkway); adventure caving trips to some of Mulu's less accessible caves; the challenging Mulu Summit climb, the spectacular Pinnacles trail, and the historic Headhunter's trail through remote rainforest scenery.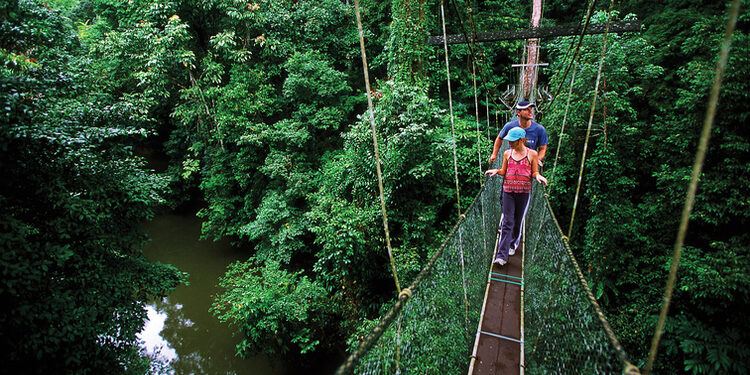 Lambir Hills National Park
Lambir Hills National Park is probably the world's most complex and diverse forest ecosystem. Its 6,952 hectares of lowland dipterous and heath forests rise to a height of 450m and produce the greatest known level of plant biodiversity on the planet. This provides a home for 237 different species of birds, flying squirrels, wild pigs, gibbons, many different types of monkey, various species of deer, and untold insects and other invertebrates, as well as dozens of international research scientists who are permanently stationed in the park. Lambir also offers fascinating trekking trails leading to sparkling waterfalls and bathing pools scattered about the rainforest, all within 40 minutes drive of downtown Miri.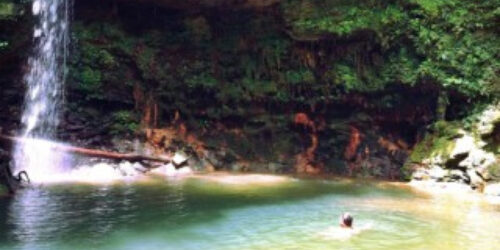 Niah National Park
The oldest modern human remains in Southeast Asia, dating back 40,000 years, were discovered at Niah, making the park one of the most important archaeological sites in the world. Visitors leaving the Great Cave around sunset will have the chance to see two great black clouds intermingling – the nightly 'changing of the guard' as hundreds of thousands of swiftlets return to their nests, whilst an approximately equal number of bats fly out to forage in the forest. The caves remain important for local communities, with birds nest and guano collection providing valuable employment and income. Visitors will also have the chance to enjoy ancient cave paintings; a majestic rain forest crisscrossed with walking trails; abundant plant and animal life, and a variety of luminous fungi that can be clearly seen from the plank-walk at night.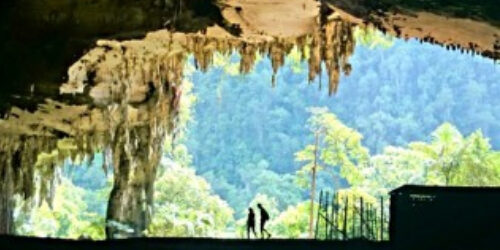 Loagan Bunut National Park
Loagan Bunut features a unique ecosystem based on Sarawak's largest natural lake (65 ha). The surrounding terrain features a variety of forest types, ranging from mixed peat-swamp forest with huge stilt-rooted trees at the water's edge, to towering Alam forest with a canopy height of over 60 m, and help to make Loagan Bunut a birdwatcher's paradise. In addition, barking deer, bearded pigs, sambar deer, long-tail macaques, black banded langurs, lesser mouse deer, small-tooth palm civets, giant squirrels, provost squirrels, Bornean gibbons, many species of frogs and small lizards, dog-headed water snakes and a variety of tree snakes are all found in the park. Crocodiles are also occasionally sighted.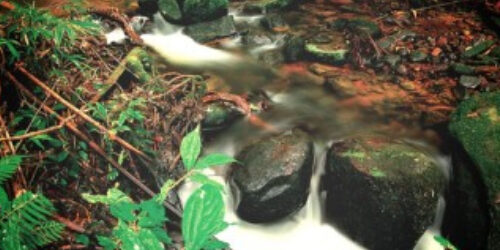 Local natural attractions
Birding
The state of Sarawak stretches for some 750 km along the north east coastline of Borneo, with habitats ranging from high hills and mountainous forest to Lowland, Kerangas & Peat swamp forest, from rice fields, to wetland and coastal regions, each with its own specialized birds. Throughout this majestic landscape, BirdLife International has designated 22 Important Bird Areas (IBAs), the highest number for any state in Malaysia. Incredibly, Sarawak hosts more than 47 endemic species and most of these are fairly common in the mountains and lowlands. Rare and elusive endemic species are also regularly sighted and photographed by nature enthusiasts, making the state a tremendously exciting experience for the dedicated birdwatcher. All birding destinations are easily accessible with good transportation network and accommodation facilities are available in the national parks.
Canada Hill
Canada Hill is a limestone ridge overlooking the town and offering excellent views of Miri and the surrounding area. The historical Oil Well No. 1, known as the "Grand Old Lady", is situated on top of Canada Hill. It was here that oil was first struck by Sarawak Shell in 1910. Nowadays the site also houses a very well designed and interesting Petroleum Museum, which traces the history and technological development of the oil and gas industries in Malaysia.
Miri Crocodile Farm
Come face to face with more than 1,000 Estuarine Crocodile (Crocodylus Porosus) and Malayan Gharial (Tomistoma Schlegelii) in a 22 acre landscaped setting with natural breeding enclosures and man-made sanctuary ponds. The crocodile farm is also home to other exotic animals from tropical countries including Southern Cassowary, Python, Binturong, Sun Bears, Gibbon, Porcupines and a band of cheerful monkeys. Miri Crocodile Farm is the first and largest Crocodile Farm in the northern region of Sarawak, and is registered with the Convention on International Trade in Endangered Species of Wild Fauna and Flora (CITES, Registration No. A-MY-509).
Miri City Fan
Miri City Fan (Jln Merpati/Jln Kipas) is an award-winning urban park complex comprising a variety of theme gardens, including a Botanical Garden and an Islamic Garden. It is also home to Miri City Library, a Public Swimming Pool, and a large Amphitheatre where concerts are frequently held. The City Fan is popular with locals for strolling, jogging or just chilling out.
Taman Awam Miri
Located 3km from City Centre, Taman Awam Miri (Miri Public Park) is a huge family park with children's playground, botanical garden, soft adventure activities and jogging trails. The park is dotted with stone carvings and sculpture, overlooked by a towering wooden walkway leading to an observation platform.
Beautiful beaches
Miri is blessed with abundant sunshine and a tropical climate, giving you heaps of opportunity to enjoy its stunning beaches and outdoor lifestyle. Learn how to dive with our PADI accredited courses in the Curtin Dive Club or simply kick back at postcard-pretty Bungai Beach. Below we've listed the main beaches from North to South.
Hawaii Beach
Hawaii Beach is located at Kampong Bakam, a 15 minute drive up the coast from the city center. The entrance is in the village next to the bus stop, and a wooden footbridge leads to the palm-fringed beach. Picnic and barbecue facilities can be provided for a small charge. Take a taxi or Miri bus No.13 to get here.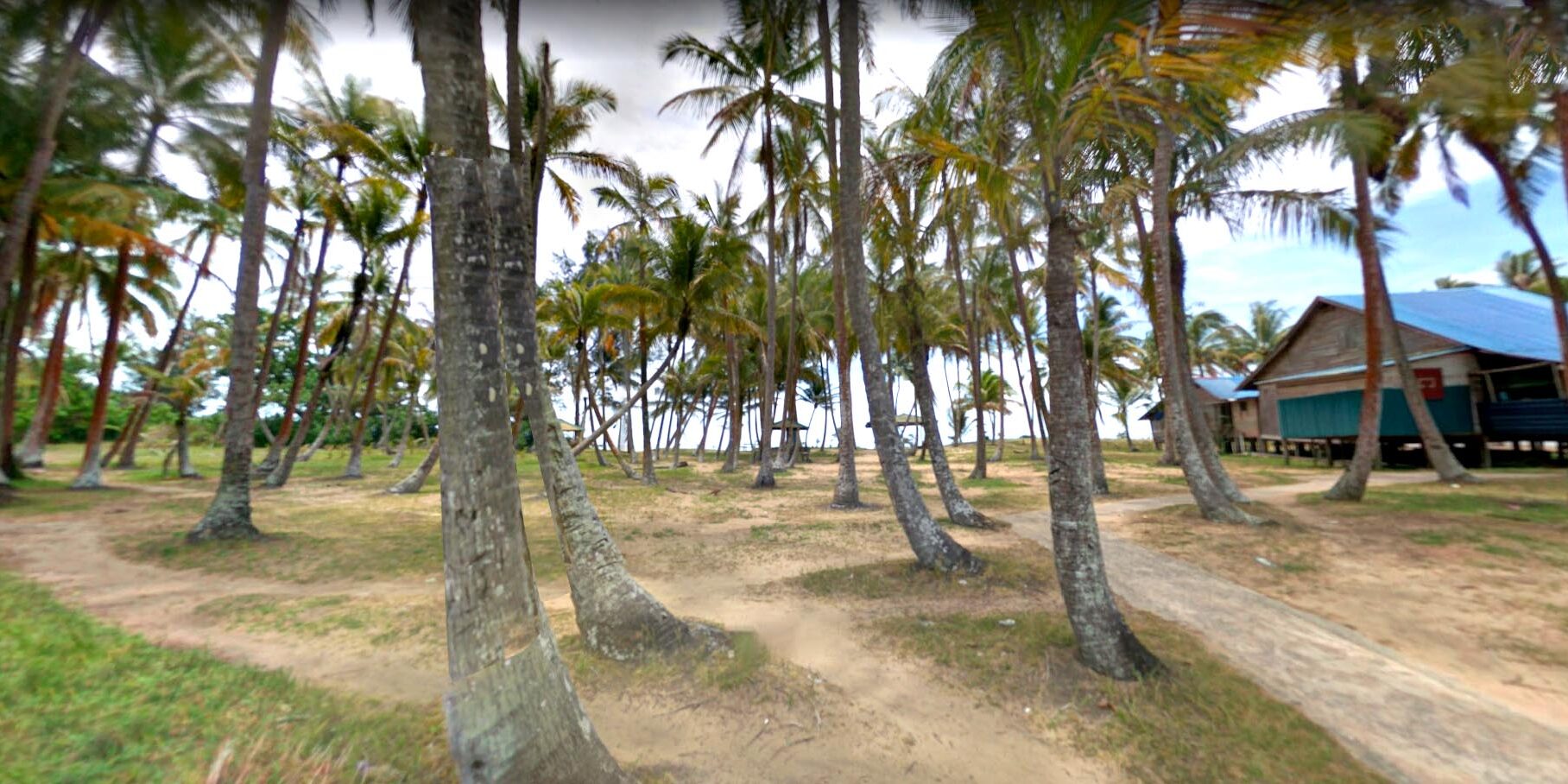 Tanjung Lobang
Brighton Beach, also known as Tanjung Lobang, is an ideal spot for watching the sunset. The city's oldest recreational park, it is still popular with joggers, anglers, Tai Chi enthusiasts and children. Enjoy excellent views of the coastline and nearby Miri Marina's unique seahorse lighthouse (the seahorse is the city emblem of Miri). A food centre, Taman Selera, is located here, offering meals over fresh seafood accompanied by marvelous sunset and sea breeze. Brighton Beach is near to Miri Marriot Hotel and Parkcity Everly Hotel, so you could take a taxi or buses from the city centre.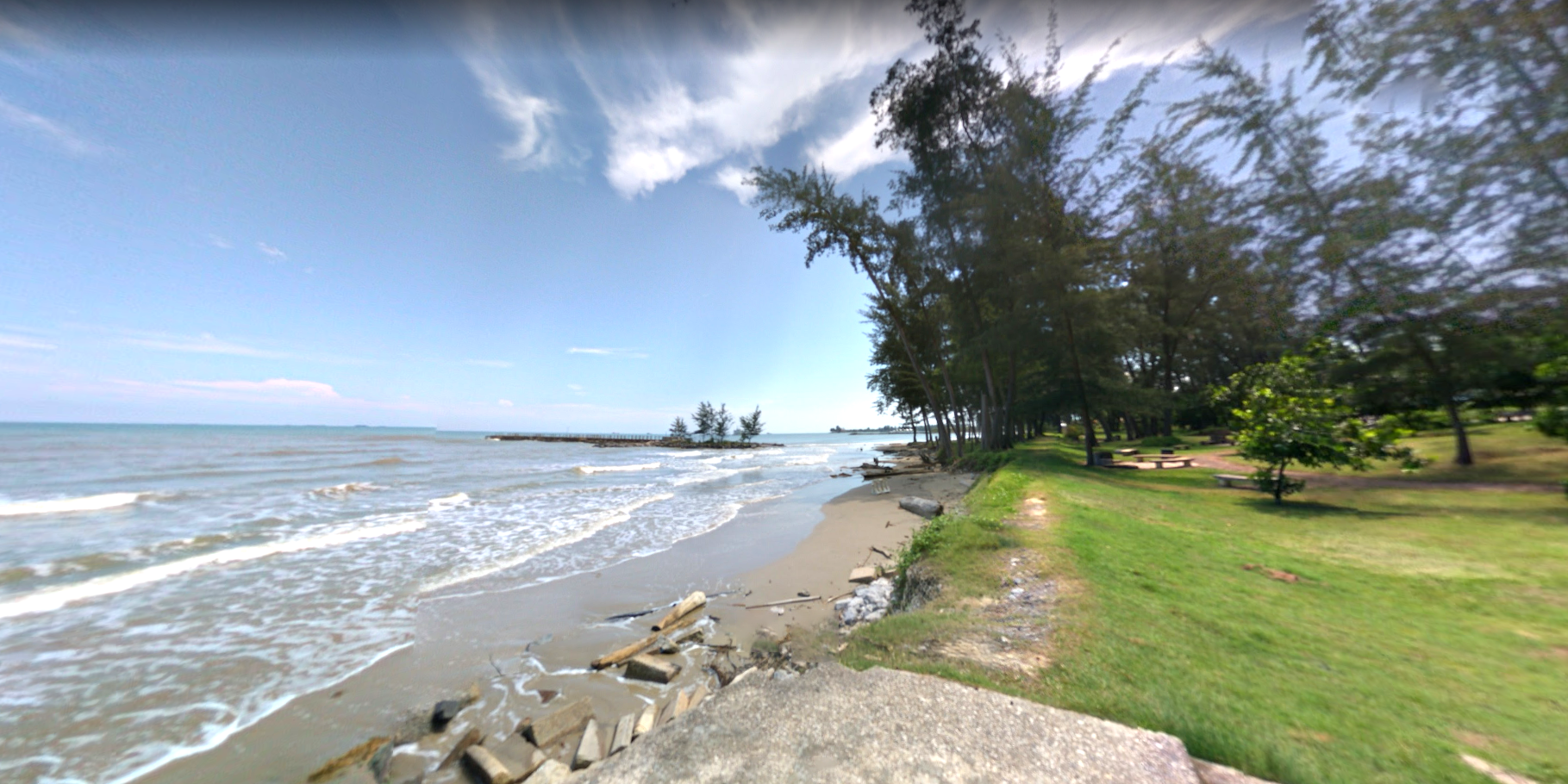 Luak Bay Esplanade
The Luak Bay Esplanade, 11km south of town, has an attractive white sand beach, making it a popular spot for picnics and barbecues, and probably the best spot in Miri to enjoy the spectacular tropical sunsets. Further down the coast towards Bekenu are a number of attractive casuarina-fringed beaches – Bungai Beach, Sibuti Beach and Peliau Beach – that are ideal for picnicking. To get here take a taxi or Miri bus No.13.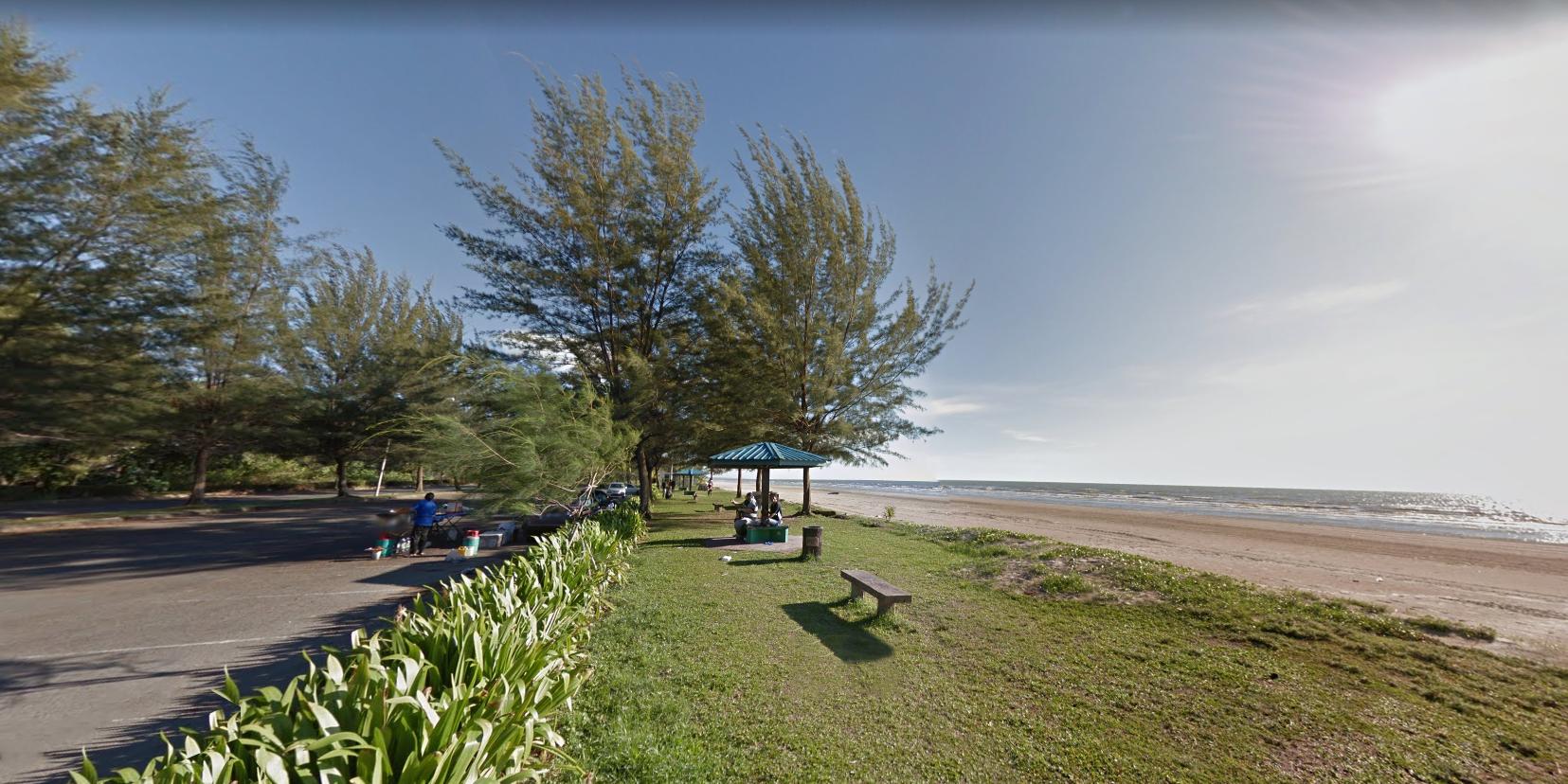 Bungai Beach
About 1 hour drive from Miri and situated near Kampung Bungai in Bekenu is Bungai Beach. Bungai Beach is popular with beachgoers who appreciate its pristine beach, clear waters, and the beauty of the untouched surroundings. Its relatively secluded and a great spot to get away from the hustle and bustle of the city. To get here takes about an hour drive from Miri city with your own transport or by taxi.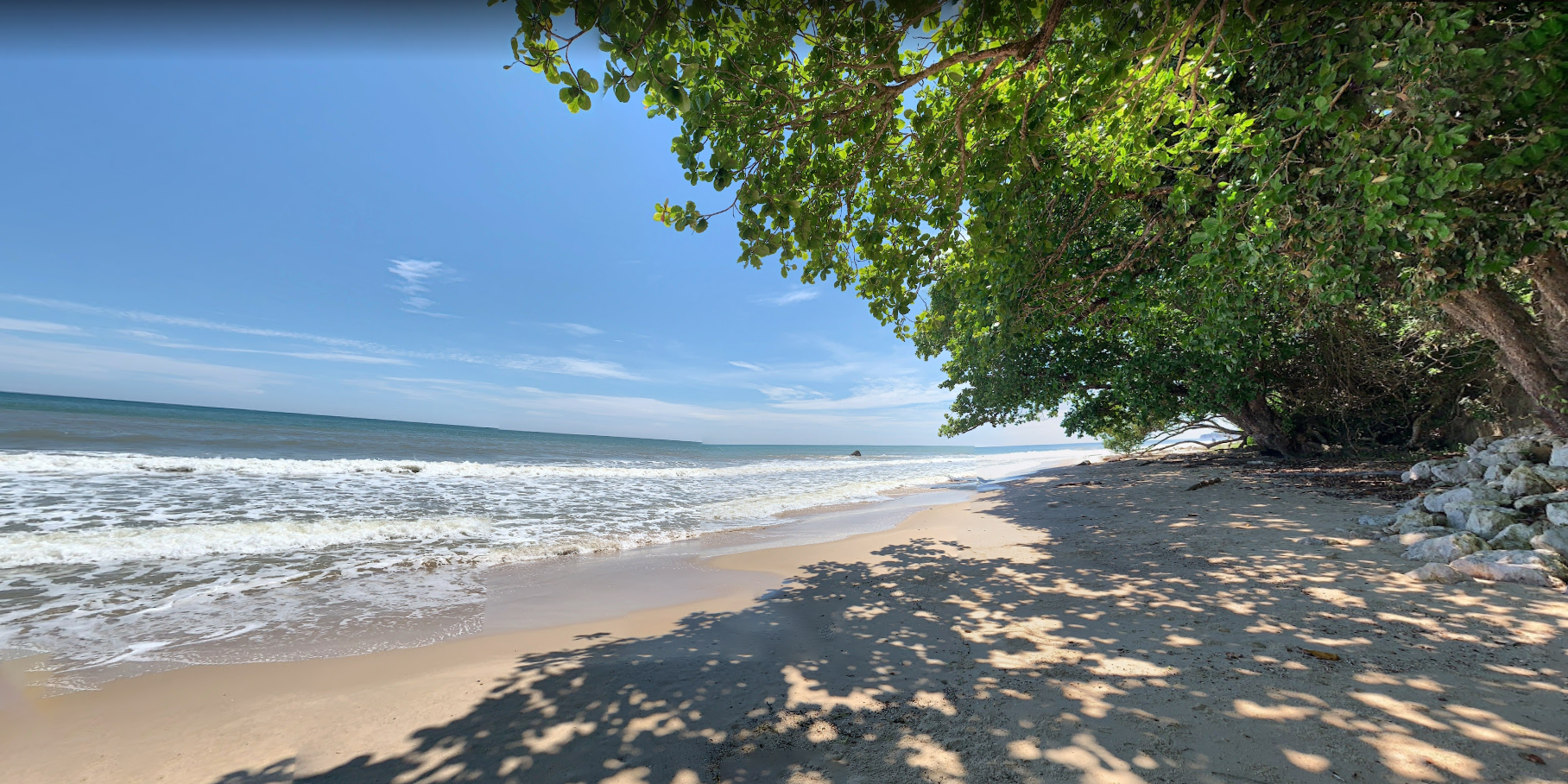 Peliau and Sibuti Beach
Peliau Beach, together with adjacent Sibuti Beach, are also about an hour's drive from Miri. They are popular getaway spots for city dwellers who wish to commune with nature. Bekenu town with its seafood market is just 15 minutes' drive away. Getting here takes about an hour drive from Miri city with own transport or by taxi.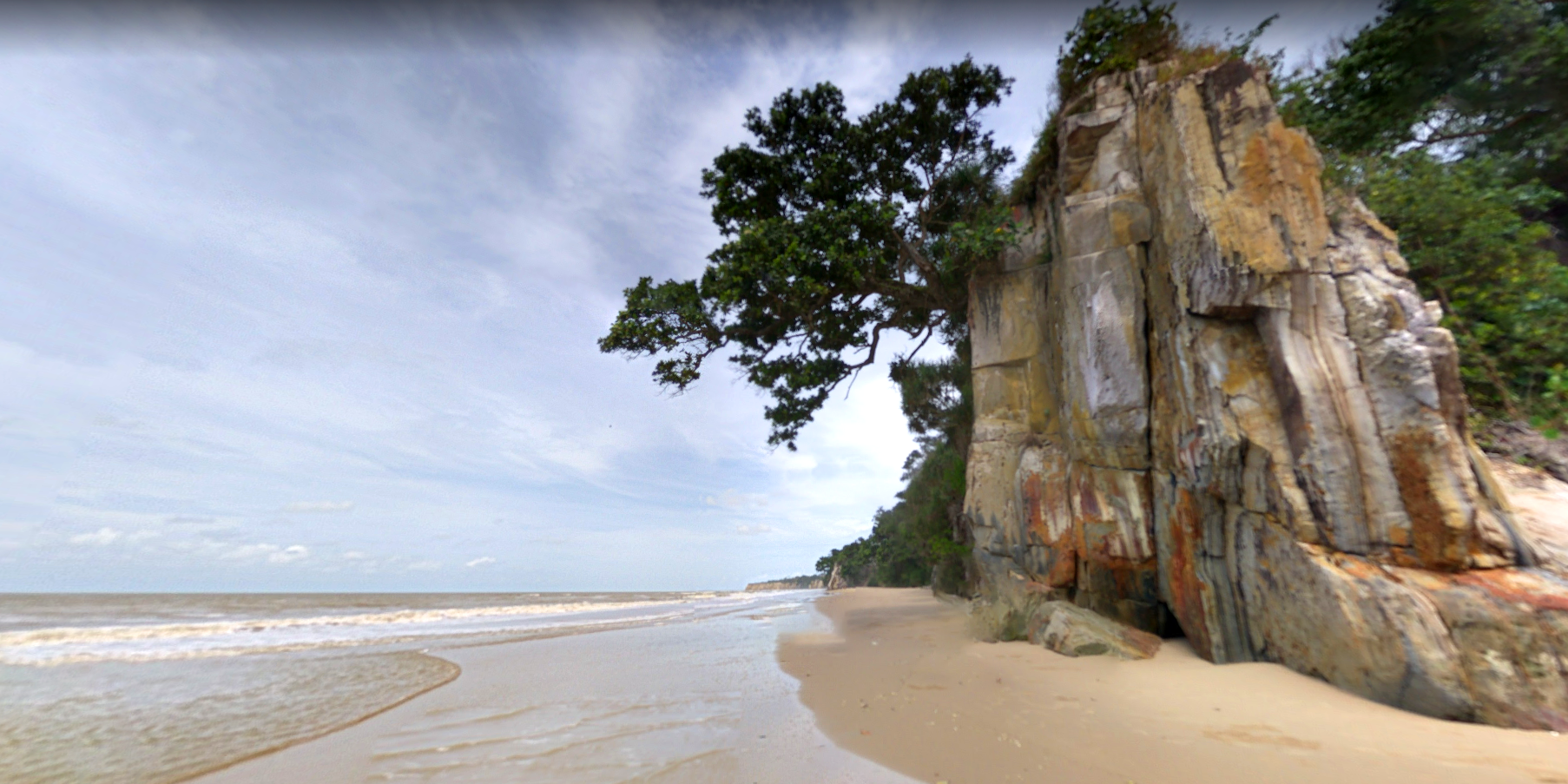 Markets, arts, culture and shopping
Miri Handicraft Centre
The Miri Handicraft Centre on Jln Brooke is a fascinating showcase of the ethnic arts and crafts of northern Sarawak. Stalls are run by the individual producers, and craftspeople can often be viewed at work here. Items on sale include Penan mats and basketry, Orang Ulu beadwork and woodcarvings, and a variety of textiles from around the state. Cultural performances are occasionally held at weekends. Open 9am – 6pm daily.
Tamu Muhibbah
Tamu Muhibbah, opposite the central bus station, is a colourful native market where you'll find a range of exotic fruits and vegetables, handicrafts and produce from upriver areas, including fragrant Bario rice. Good photo opportunities.
Bawah Payung Market
The informal Bawah Payung Market (Under the Umbrella Makeshift market) sets up at weekends outside the shophouses across the road, selling all manner of cheap goods.
Sikh Temple
The Sikh Temple on Jln Kubu (10 mins walk from city centre) is one of three in Sarawak. It is attractively located in the shade of a 100-year-old angsana tree.
Tua Pek Kong Temple
Tua Pek Kong Temple is a dedicated to the deity most beloved by overseas Chinese. According to local legend, work started in the temple in 1913, in order to give thanks to the deity for helping to end a mysterious epidemic. The temple is situated right next to the Miri Fish Market, where the local catch is landed early every morning. An enormous variety of fresh fish and seafood is sold here.
San Ching Tian Temple
The San Ching Tian temple is the largest Taoist temple in Southeast Asia. The superb red roof, elegant lotus design motif and the delightful wind chimes make this a very impressive and atmospheric place to visit.
Restaurants
Eating out is the Malaysian national pastime, and the good folk of Miri are no exception. The choices on offer are unlimited and food outlets range from fine dining, exotic foreign restaurants and bistros to roadside food stalls. The multicultural nature of the city brings together a world of flavours. Check out TripAdvisor for reviews and details of all the restaurant options in Miri.
Annual events and festivals
Feeling adventurous? Explore more
In proud partnership with Sarawak Tourism
This page has been developed in proud partnership with the Sarawak Tourism Board. For extensive information about both Miri and Sarawak, including attractions, accommodation, wildlife, food and culture, please check out the Sarawak Tourism Board's website at sarawaktourism.com or their Facebook page.
While on your adventures here in Sarawak, be sure to tag your social media posts on with @sarawaktravel and #AwesomeSarawak for a chance to be featured on both Instagram and Twitter.