Our Campus

Curtin Malaysia's impressive 300-acre campus opened in 2002, in the suburb of Senadin, in Miri. The distinctively charming campus is set in the midst of open flatland that stretches all the way to the Baram River, where the Trans-Borneo Highway and the ASEAN Bridge link Miri to neighbouring Brunei. The campus is surrounded by lush greenery interspersed with man-made lakes and canals that attract a variety of migratory and water birds. An incredible variety of both ornamental and hardy indigenous trees and shrubs flourish on the grounds. This scenery reflects Sarawak's environment of year-round tropical greenery and bountiful wildlife. Coupled with Miri's famed sunsets and Senadin's location away from the bustle of the city, the ambience of the campus is tranquil, inspiring, and conducive for both work and study. Take an aerial tour of Miri and our campus in this video below: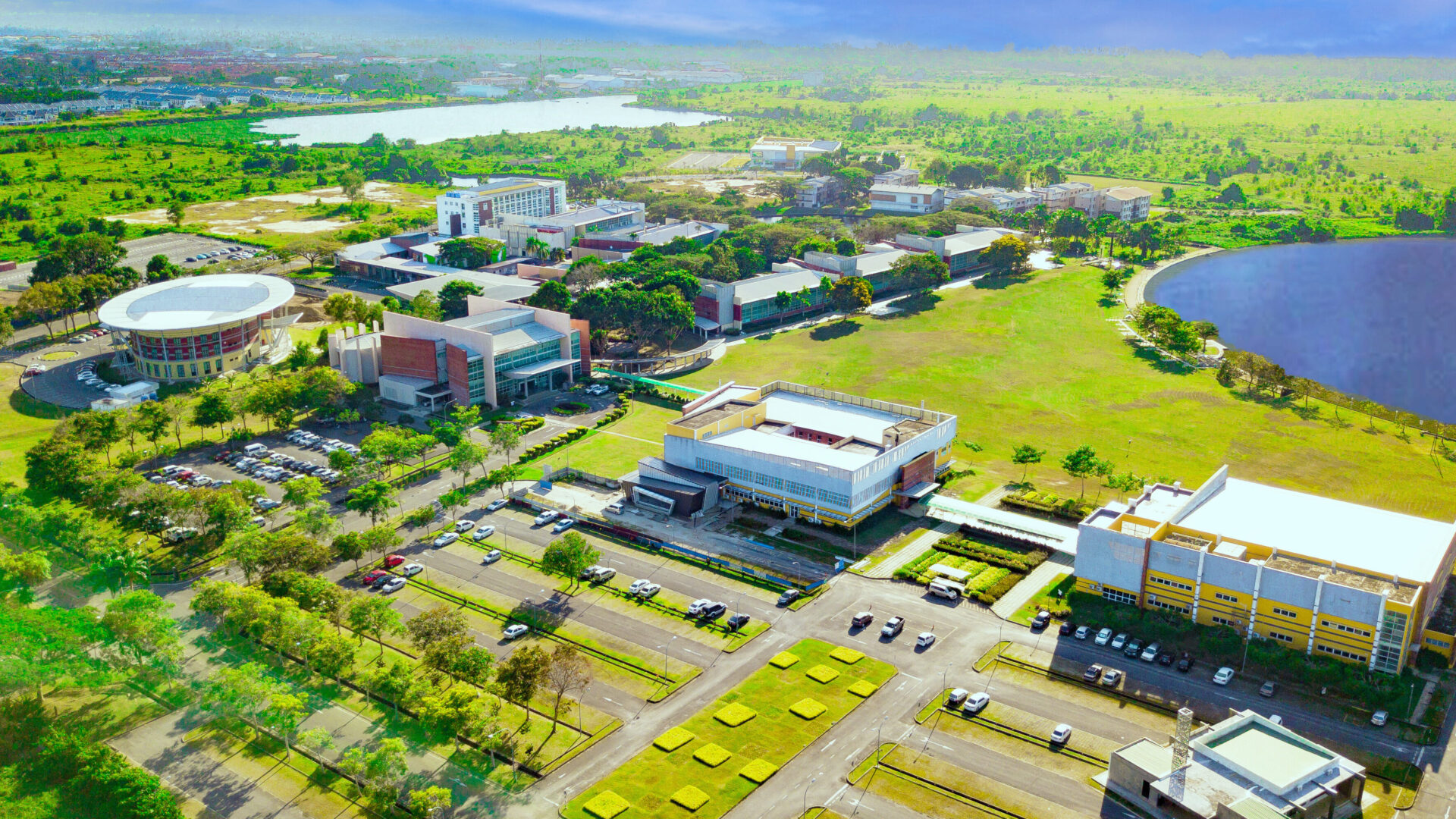 The campus is not only limited to wild beauty though. Through our commitment to 'Learning for Tomorrow', Curtin Malaysia has introduced a number of innovative technologies that transform the delivery of education to support increased student engagement and active learning. Chief among these is the introduction of distributed learning spaces that allow for a mix of web-based instruction, live-stream video conferencing, face-to-face classroom time, distance learning through television or video, and other combinations of electronic and traditional educational models. This distributed learning system allows delivery by instructors to learners in multiple geographical locations and learner-instructor interaction in real-time. In addition we continue to make significant investments in state-of-the-art computing and networking facilities. The campus currently has 14 computer labs for student use in addition to terminals located in the library that provide access to online databases. Sophisticated IT linkages provide access to the online resources of the main campus in Perth.
Research activities are an essential component of academic excellence at Curtin Malaysia and so the campus also boasts a number of ultra-modern science and engineering labs, including Chemical, Geotechnical and Structural Engineering labs, as well as laboratories for Electrical Power, Electronics, Communications, Embedded Systems, Networking, Renewable Energy and Geophysics. Film and Television students, meanwhile, can count on a custom-built Film Lab and Editing Suite equipped with the latest broadcast-quality film-making equipment and software.
Students at Curtin Malaysia can find everything they need right on campus. In addition to the library and laboratories, our campus boasts several study areas, a choice of food outlets, postal and banking facilities, a campus bookshop, convenience store, health and first aid centres, an Islamic Centre, and transport hub. Students also enjoy access to recreational facilities such as the multipurpose Recreation and Event Centre which houses an indoor basketball court, badminton courts and gym. Our extensive grounds are home to football fields, a rugby pitch, outdoor basketball court, tennis courts and an indoor volleyball and futsal court.
Curtin Malaysia is now entering its next phase of development spanning the next five years, during which its student population is expected to surpass 5,000. A state-of-the art Library and Auditorium complex, a signature work of architecture and new campus landmark, has already been completed. Incorporating a 400-seat auditorium and modern library facilities, it heralds an enrichment of campus life and the student and staff experience. Upcoming projects include the Federal Government-funded Sarawak Biovalley Pilot Plant being developed with the Sarawak Ministry of Industrial Development and housing the Curtin Malaysia Research Institute (CMRI), a new Faculty of Engineering and Science building, a multi-purpose teaching block, additional student accommodation blocks and a new gymnasium.