Student ID
Student ID card contains a photograph and basic personal details of the cardholder.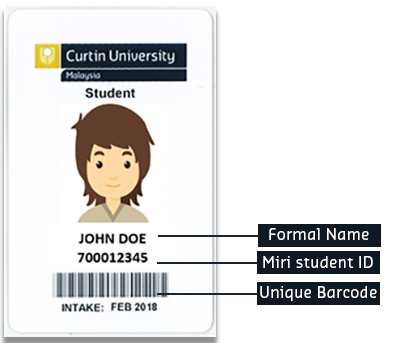 How do I get one?
Once you have made payment, your student number will be generated automatically. You will take photo for your student ID Card during orientation week.
How much will it cost?
Your first card is free!
If you are replacing your card due to it being lost or you forget to bring it during your Examination, you will need to pay RM50 for a replacement fee.
If you card has been stolen and reported to the police, you will be asked to provide evidence of the police report. No fee will be charged for a replacement.
Why do I need one?
A student ID card identifies you as being a member of the Curtin community and enables you to access certain campus facilities and services that are restricted to University staff and students.
You must have a card to:
Proof of your identity as a Curtin Malaysia Campus student
Enable you to attend classes
Access Library Borrowing Services
Computer and laboratory access
Attend University examinations
Where do I get one?
A student ID card will be issued to all new students at the time of registration. You may collect it at Student Services Counter.