Health Insurance
As an international student at Curtin Malaysia and bonded by Malaysian Immigration Laws and Regulations, you are covered by the University's comprehensive Group Hospitalisation and Surgical Insurance Plan which is currently operated by Generali Insurance Malaysia Berhad.
Coverage under the Group Hospitalisation & Surgical Insurance Plan is offered at a very competitive annual premium of RM900.00 per student. The annual premium is applicable for all actively enrolled international students below 65 years of age.
You will be issued medical care which provides the benefit of hospital admission and outpatient clinical treatments.
e-Medical Card
Please be advised that you will no longer be provided a physical card for your medical insurance. The new insurance e-card is to be downloaded as per the instructions below.
What does it mean for You?
You would be able to check the details of your medical coverage such as your entitlement, utilization record, limit balance and nearest panel clinic and hospital.
How can I get the apps?
Please download and use the e-Medical Card via MiCare mobile app, MyMed, from the App Store or Google Play Store. The login as per below:
Step 1: Download MiCare MyMed app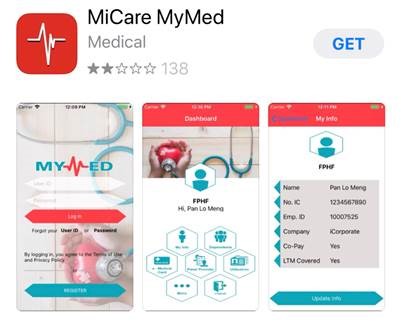 Step 2: Please key in as per example in picture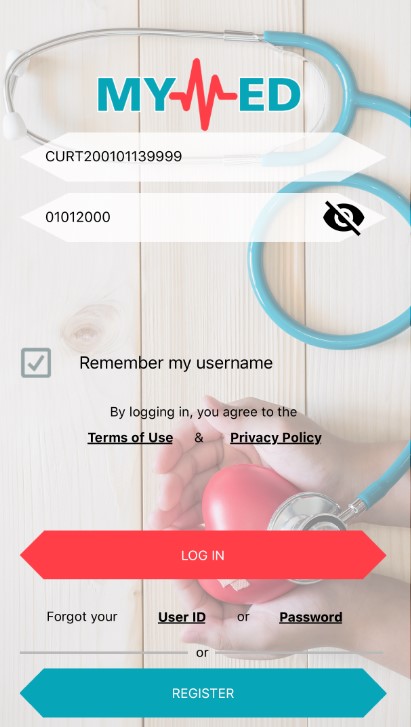 User ID: CURT+PASSPORT (No space between CURT and Passport ID)
Password: DDMMYYYY (date of birth)
Step 3: Tick "remember my username" and click login
Frequently Ask Questions 
1. E-Medical Card Vs Physical Medical Card – What's the difference?
The e-medical card is an online copy that is made available via mobile apps platform to the user once the MyMed app is downloaded and account is activated following the instruction from the announcement. The physical medical card is a hardcopy format of the same.
2. How do I use the e-medical card?
Similarly, to the physical medical card, the e-medical card, along with Passport, needs to be shown at the panel clinic and hospital for verification.
3. Can I use the E-Medical Card offline?
Yes, kindly save a screenshot copy to do so.
4. Where can I get a list of the panel hospital?
You can view the list using MiCare's mobile app, MyMed, or call the following 24-hour alarm centre to enquire about your nearest available panel clinic and hospital: 1300 88 9911 / 03 7839 7200
Submit a claim (Reimbursement basis)
Please provide below documents:

Original claim form (Print out the form or get it from International Student Office)
Original Invoice
Original Receipt
A copy of doctor report (if any, or to fill up the one at Claim Form at page 2)
Once complete, submit all required original documents to International Student Office
Visit panel clinics to get treatment instead of the hospitals. Only visit hospitals in the event of an Emergency ('Emergency' shall mean Treatment needed between the hours of 12 am and 6 am or in the event whereby immediate medical attention is required within twelve (12) hours for Injury, Illness or symptoms which are sudden and severe failing which will be life-threatening (such as accident and heart attack), or lead to significant deterioration of health permanently.)
Visit non-panel clinics and hospitals only when referred by the panel clinic (with referral letter)
For enquiries or any personal assistance, drop by the International Student Office at Prinia 1, Ground Floor, Curtin Malaysia or email internationalstudentoffice@curtin.edu.my